This day is celebrated four days later full Moon in the month of Kartika few days before the Diwali festival. This is one day Hindu festival celebrated across North India by the married ladies for the long life of their husbands. The date is not fixed according to the Gregorian calendar and varies every year. For a couple of years Craze for Celebrating Karwa Chauth at the Taj, Mahal Normally Ladies are on fast for full day and even they do not drink a single drop of water.
Karwa Chauth(
करवा चौथ)

Story

Originally this fast was done by the married women to safeguard the lives of their husband, it was a festival of Punjab but owing to the television and movies now it can be seen being celebrated all over India. Famous Hindi movies like "Dilwale Dulhaniya le Jayenge" are responsible for the popularity of this festival.

The Punjabi newlyweds and married women fast from morning to the night and break their fast after offering pooja to the moon on the fourth night after the no moon night of lunar calendar (usually in October month). The day of Karwa chauth starts with the mother in law of the married women offering "Sargi" to their daughter in laws. "sargi " is a vegetarian food platter which can have anything like fruits, dry fruits, curry, Parathas etc.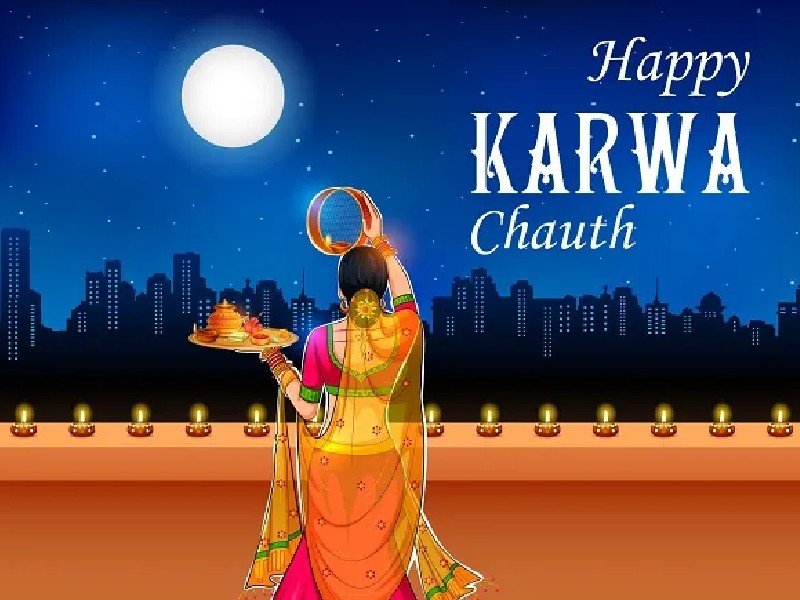 After the onset of the day the women don't even drink a drop of water. In the evening the women who practice the fast get dressed and do "solah shringar" then they assemble and listen to the Karwa Chauth vrat katha. This is a story of a queen from the erstwhile times Veero the queen had seven brothers after her wedding she kept the Karwa Chauth Vrat for the safety and long life of her husband her brothers loved her very much as they progressed she was very much intrigued by the fasting, seeing her suffering her brothers arranged for a dummy moon so that she could break her fast. Seeing the dummy moon Veero broke her fast this led to the death of her husband. Veero prayed to Goddess Parvati, aggrieved by her wailing Goddess appeared and blessed her and her husband again came back to life.
The women after the moon rise see their husbands face and are blessed by them. Offerings from a mud urn to the moon are done this mud urn is called "Karwa" happily later the women break the fast from their husbands hands, in rural areas the women also draw paintings of Karwa chauth specially in Uttar Pradesh.
Read More Blogs-
How Karva Chauth is celebrated?
The major event of the festival occurs in the evening with the moon rise. These ladies prepare themselves in fine garments and rich ornaments. They have the same earthen pots known as Karvas and put sweets inside them. In the sprout of the Karvas, they fix some Broomsticks and as the moon rises, they see the faces of their husband through a sieve and worship the moon god now. Some ladies are even
Celebrating Karva Chauth at Taj Mahal
After the celebrations, both husbands and wives sit together for dinner. For a couple of years, a growing craze is noticed among the youths to visit the love monument-The Taj on this day. The ladies with their moon (husbands)