What is IRCTC?
IRCTC is the acronym for Indian Railway catering Tourism Corporation. The body is under the Indian railways and provides ticketing, catering and tourism services. It was founded in 1999 and listed with NSE in 2019 with the major ownership of government of India. The company was incorporated with the aim of modernization and up gradation of catering and hospitality services rendered at the Indian railways stations. IRCTC share price has gained much increase over the years. The website of the company is one of the most browsed sites in India and millions of train ticket booking and transactions are done for each month on the IRCTC portal. Presently the corporation focuses on important segments like internet ticketing, providing rail meal and travel and tourism packages. You can avail "Bharat Darshan" package which is budget package across India. Similarly for luxury packages you can book maharaja express or Buddhist circuit train.
IRCTC Train Ticket Booking
IRCTC provides the facility of train booking through its website www.irctc.co.in it also gives the facility of checking PNR status 10 digit and live Train status. You can book E-tickets with IRCTC as well as I-tickets The I-tickets are like regular tickets. They are booked online and deliver discounts on all sorts of tickets throughout the year by paying upfront annual fee. There is another scheme called Rolling Deposit scheme in which you can reserve tickets by keeping the advance money. Now you can avail smart cards to get unreserved tickets and avoid long lines at the stations. Those who have to do journey of the train all of a sudden can book tatkal tickets with the portal which starts at 10 am for AC coaches one day prior to your journey.
Read Related blogs:- 
How to create IRCTC account?
Step A- Go to the IRCTC website www.irctc.co.in
Step B- Click "Register"
Step C- Now you find a form, choose user name, make a password a security question & answer and language. Now fill the personal details , Phone no and e mail and residential address.
Step D-Enter Captcha, check terms and conditions and click "register" button
Step E- Now you get a verification mail on the registered phone. Complete the details.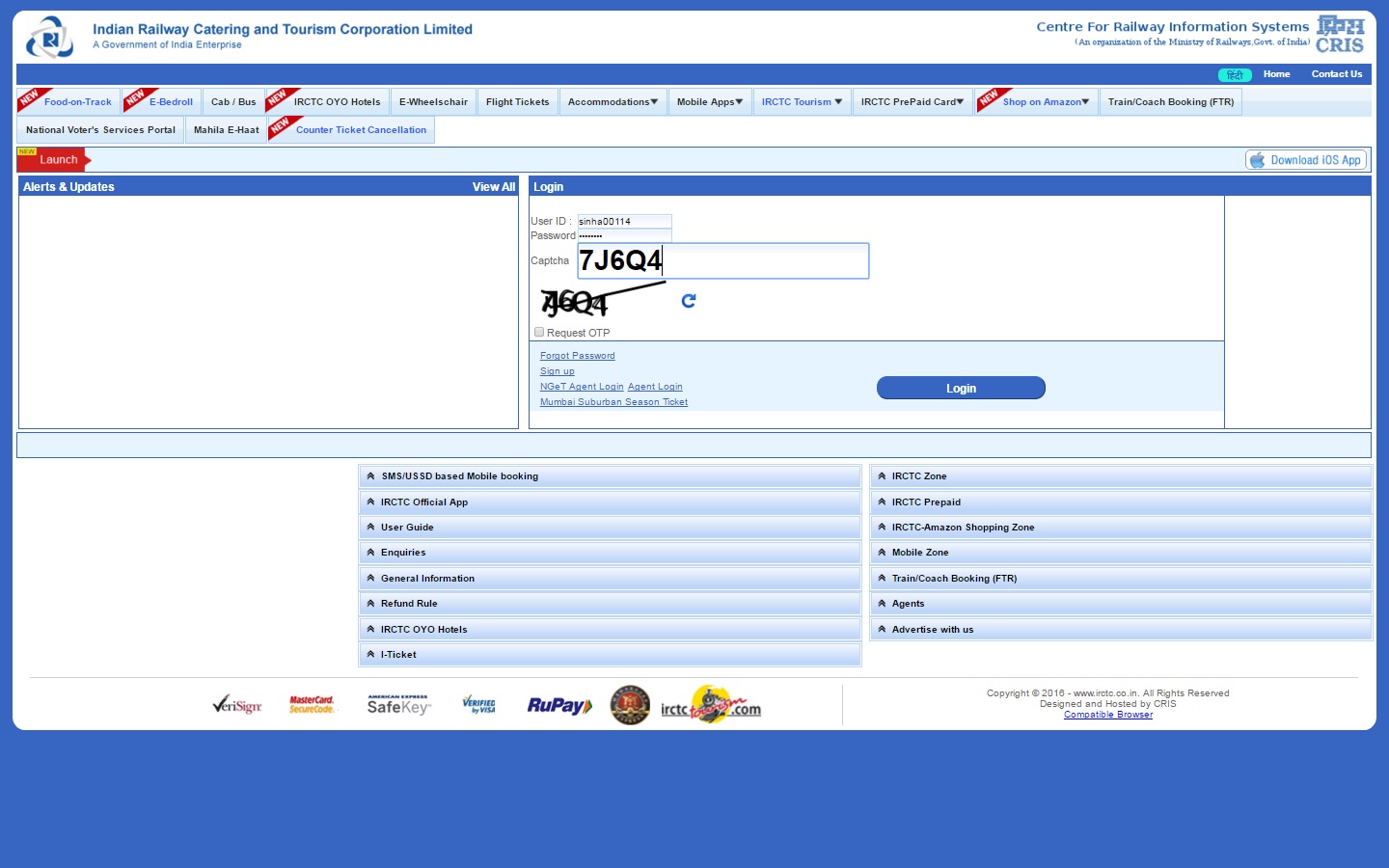 IRCTC Website
Now a day IRCTC has its official website IRCTC net generation E-ticketing and thus handles online ticket booking. This website and their app has easy navigation and mobile friendly experience. IRCTC rail connect is the official mobile app. It can be easily downloaded from Google play store. Thus the passengers can do multiple task on the website and app both. You can book E-tickets , cancel than, Check PNR status, book meals, check train schedule, change boarding place, check running status of the train etc. Book Maharaja Express
Suggested Tours
How to book E-tickets through IRCTC?
Step A- Go to the official website ww.irctc.co.in Log in to this with your username and password.
Step B-Fill the details of your boarding station, destination and date of journey check on "Find Trains"
Step C- Now you get the list of trains
Step D- Select the train, class, Now "Check availability & Fair's" button. Now you get the available
Step E- Fill the passenger details, age, gender, Agree to the terms and conditions. Enter captcha text and check "continue booking" button.
Step F- Review your details to make sure everything you have entered is correct. If not go back and make changes.
Step G- Make payment using debit card, credit card or digital wallet, net banking etc.
Step H- As you make the payment you will get e-ticket with coach no. and journey details.
How to check PNR status of train ticket booking?
PNR is always mentioned on the ticket or on the electronic reservation slip. On the counter tickets it is mentioned on the left.
PNR status for Passenger Name record. It is 10 digits number which certain details and passengers and journey.
To know about your correct PNR status you can check using SMS 139. You type your unique PNR number and send it on toll free 139. Besides you can check PNR status from IRCTC website or mobile App. You can do it with Railway passenger reservation Enquiry or enquiry counter PNR has various abbreviations such as.
CNF                                                               confirmed
WL                                                                Wait listed
CAN                                                              Cancelled
RAC                                                               Reservation against Cancellation
Checking PNR status with Indian Railway Passenger Enquiry
Step A – Browse Indian Railway Passenger Enquiry Website www. indianrail.gov.in
Step B – Check on PNR Status
Step C – Enter your PNR Number
Step D – You get the details
How to cancel train ticket on IRCTC website ?
The cancellation can only be done online from 48 hours to 124 hours prior to the scheduled departure of the train.
Step A- Browse the official website of IRCTC www.irctc.co.in and go to train section. Later go to cancel ticket and pick counter ticket option.
Step B- Enter your PNR number, train number and captcha
Step C- Now check the box with terms and conditions
Step D- click to submit, the cancellation will be confirmed online and the refund would be credited back to your account after deducting the cancellation charges.
Indian railways has decided to restore the normal train services from December 10, 2021. Earlier the several train travel restrictions were imposed during corona pandemic time to dissuade the journey. With the passage of time and keeping on mind the facilities of the people with the decrease in number of corona cases such restrictions are lifted. Earlier the train fares were hiked earlier only special trains were plying on to lesson the members of the masses and the tariff was increased that the normal tickets .Now the railways has issued an order to destination the special category of mail and express trains and bring the train fair to pre-corona times.