Air India is one of the major airlines of India. Air India Journey is very poplar with the frequent fliers. It has a long legacy and operates Boeing and Airbus fleet to hundreds of Indian and Global destinations. Air India was formerly owned by the Government of India and presently owned by Talace Private Limited after the disinvestment process by the Government of India. Talace Private Limited is a special purpose vehicle of Tata sons. Air India has it is head quarter at the IGI Delhi. It covers nearly 102 destination and operates flights to domestic and other Asian destinations in alliance with it is subsidiary Air India Express.
History of Air India
This famed Airlines was initiated in 1932 Air services which was named as Tata Airlines later as Tata Airlines. It started operations since 1946. It has the major headquarters at Indira Gandhi Airport and the secondary at Chhatrapati Shivaji Maharaj international airport Mumbai. It has a subsidiary as Air India Express. The history of Tata Airlines dates back to 1932 when JRD Tata flew its first Haviland Pash Moth from Karachi to Juhu air port Bombay carrying Air Mail. At the culmination of the Second World War it was made a public limited company and was named as Air India. Air India Mascot is the Maharaj. Since 2004 Air India started a subsidiary Air India limited. It incurred heavy losses thereafter. In 2017 the government of India approved the Privatization of Air India. In October 2021 Air India with it is subsidiary were sold to Talace private limited.
Air India Logo
Air India Logo depicts a red colour flying swan with konark Chakra in orange colour. The flying swan is derived from Air India's original logo "The centaur".
Read More Blogs –
Tata Air Service and Agra
During the British regime Agra was the capital of United province and was very important from strategic point of view. Less knowing fact is that Agra post office history is very old when Huzoor Maharaj became the first Indian Postmaster General in 1881 and head post office building was built in 1913 around 82 years back to the sky of Agra witnessed the thunder of Tata airlines landing on the air strip in Agra.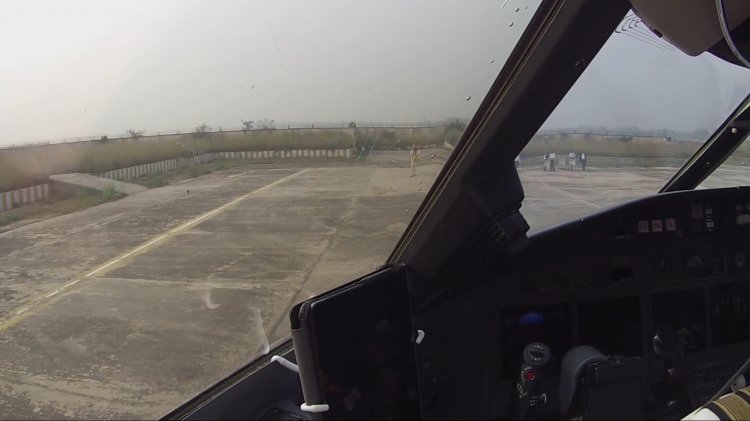 For the sake of postal network from India to London Air service was started by Tat group and Air strip was made in Agra and Gwalior. Thus the air service was operated from Agra to Gwalior –Mumbai to Karachi. Tata air service got the Pilot riscence in 1927 from Karachi to post and other materials were sent by shop to London. Tata air service incessantly worked up to 1941 before the world war second started. Due to the proximity of closer railway line the air strip was made at Kheria Area. After the independence of India at the same place kheria Air force station was established. Presently on Agra Jaipur highway there is a gate of Kheria  airport which is called Tata Gate and this gate and thus Gate is made in the remembrance of Tat Airlines. 
Air India Handed over to Tat Group
On 27th January Air India was handed over to Tata Group. While all necessary formalities were done and the shares have been transferred. In 1953 the Government of India purchased this company from Tata sons and it was renamed as Air India International limited. Now Tata Group is focusing on the core issue of improving the financial status of the company and provides better consumer experience. Thus much impetus is given on meal service and airline interface. Thus it is passing a way to new culture of Air India.
Air India prospects
Tat Group embarked on a new journey with the official takeover of Air India. With the coming of Air India to its first owners the passengers can expect the improved ticketing and operational services. They can also dream of a large variety of food and beverages. The large number of employees' community will not be retrenched for one year. The employees will get the statutory benefits like PF and Gratuity and the retired personals will get medical benefits. The country's economy will not shed off the loses but it is no longer a national corner.
Suggested Tours-
Documents to carry with Air India Journey
For the domestic travelers it is necessary to hold valid flight tickets issued in the name of the traveler and you should posses a valid identity proof like voter id, Aadhar Card, driving license, Passpport etc whereas for the international passengers it is compulsory to hold passport, a valid visa entry permit and the health certificates.
Facilities of Air India                           
Air India facilitates you with the services of web check in, kiosk check in and mobile check in. They have transfer desks. They have self service buffet and bar counters and you can avail the services of newspaper and magazines. You can also book preferred seats like window, Aisle and middle. They cater different on board facilities for the first class, executive class and economy class and economy class. They run special offers time to time like student offers, companion scheme, concessionary fare etc. They also provide special offers to the corporate clients.