Gujarat is the favorite tourist destination and a business hub of India. Gujarat is located on the western coastline of India spread in 1600 kms. This place is also the home town of the father of nation "Mahatma Gandhi". Gujarat is also famous for its serene beaches, temples, wildlife sanctuaries and historic capitals. There are scores of places to visit in Gujarat. Gujarat is a perfect blend of nature where tourists can fulfill their desires. Gujarat is also highlighted in the world map as the present Prime Minister Narendra Modi born in Gujarat and after he became the Prime Minister in 2014 many international ambassadors and politicians visit this state. The present population of this city is around 60 million and it is one among the largest state in India. The ancient names of Gujarat are Pratichya and Varuna and this city is also recognized in the world for its textile industries.
Gujarat receives around 50 million tourists every year including domestic and international visitors. This is is the first state in India which is known as Liquor Free State. Gujarat tourism industry did lot of campaigns to promote Gujarat tourism in which the Campaign of Bollywood actor Mr. Amitabh Bachchan ad campaign was very famous which increase a lot of tourism in Gujarat. Here in this article we introduce you the Top places to Visit in Gujarat.
1.Sun Temple, Modhera – One of Top Places to Visit In Gujarat
The Sun Temple is located in the Mehsana district of Gujarat state and this temple is dedicated to the solar god Surya. This temple was built in 11th century by the Solanki dynasty situated on the band of river pushpavati. The beautiful town of Modhera houses one of the most beautiful Sun Temples in India. This temple is world famous for its intricate design and patterns. The carved sculptures, rectangular carved step wells, set up hall make this structure grand. The temple is constructed in that way that the main sanctum gets the first ray of sun in the morning hours. This temple has been attacked by many musilm invaders such as Mahmud Ghajni, Alauddin Khilji and they loot every time all the valuables of this temple. But this temple is rebuilt again and in present tourist will enjoy the visit of this temple.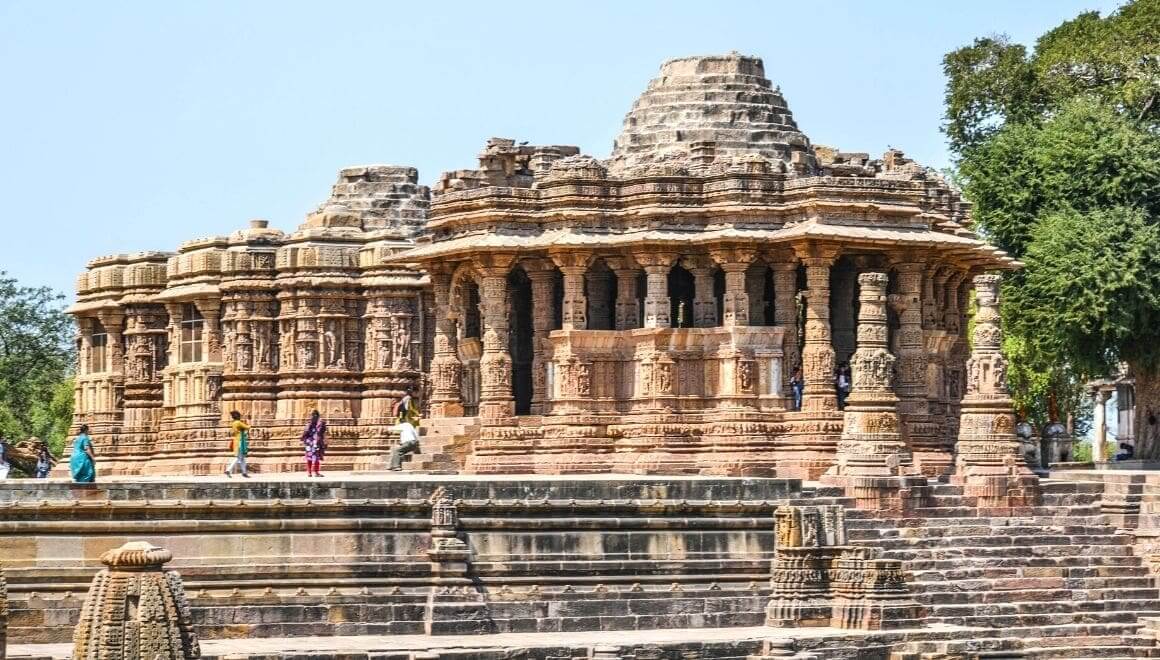 2.Rani ki Vav,Patan- One of Top Places to Visit In Gujarat
Rani Ka Vav is the famous archaeological monument of Gujarat state built by the Solanki dynasty. This is a famous step well built in the 11th century and also a tagged as a world heritage site of UNESCO. This step well has 7 different levels heading down towards the water level and every section has made up of beautifully designed 550 main sculptures and statues. This step well is located near the Sarasvati river and consider as one of the prominent site in Gujarat. The statues and paintings carved on the step wells is mostly related to the creator god Lord Vishnu. This famous step well showcasing craftsmanship of the historical era built in Maru-Gurjara architecture.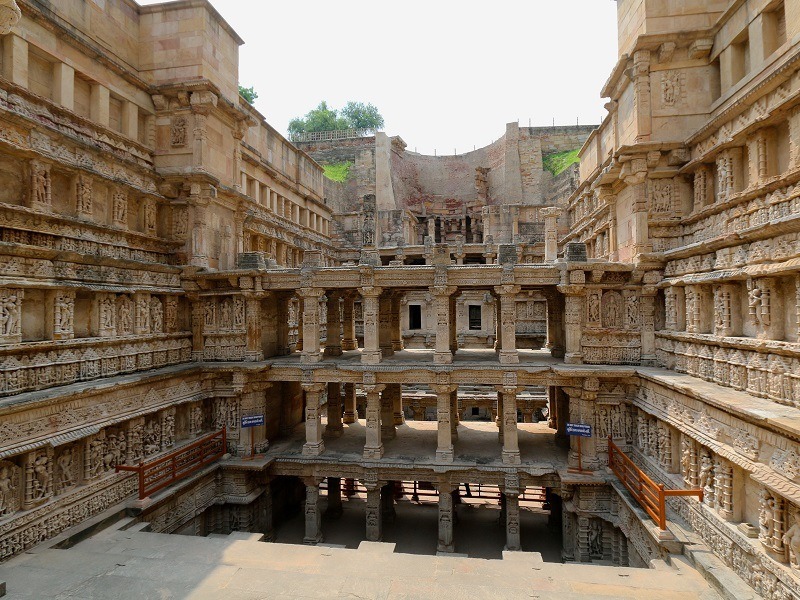 Suggested Reading- 
3. Kutch, Gujarat
The Kutch Gujarat is one of the most visited tourist destination of Gujarat. Kutch is also famous as "wild west" as its located in the western part of India. Kutch is famous for its white deserts, hills, handicrafts, forts, beautiful beaches and the most prominent archaeological sites. The most of the Kutch part sustain with seasonal wetland which is famous by the name of Rann of Kutch famous for its sodium desert and wild Ass sanctuary. Kutch is virtually an island surrounded by the Arabian sea in the west where you can visit the historical Bhuj and it is also belonging town Mandavi and Dholavira ruins represent historical Indus valley civilization.
Kutch is also famous for its world famous festival "Rann of Kutch" which is held during December to February month where the huge camps settled on the white desert and lots of cultural and traditional activities were performed in this fair. The lots of adventure activities are also performed at the same time such as Hot air ballooning and Kite flying etc.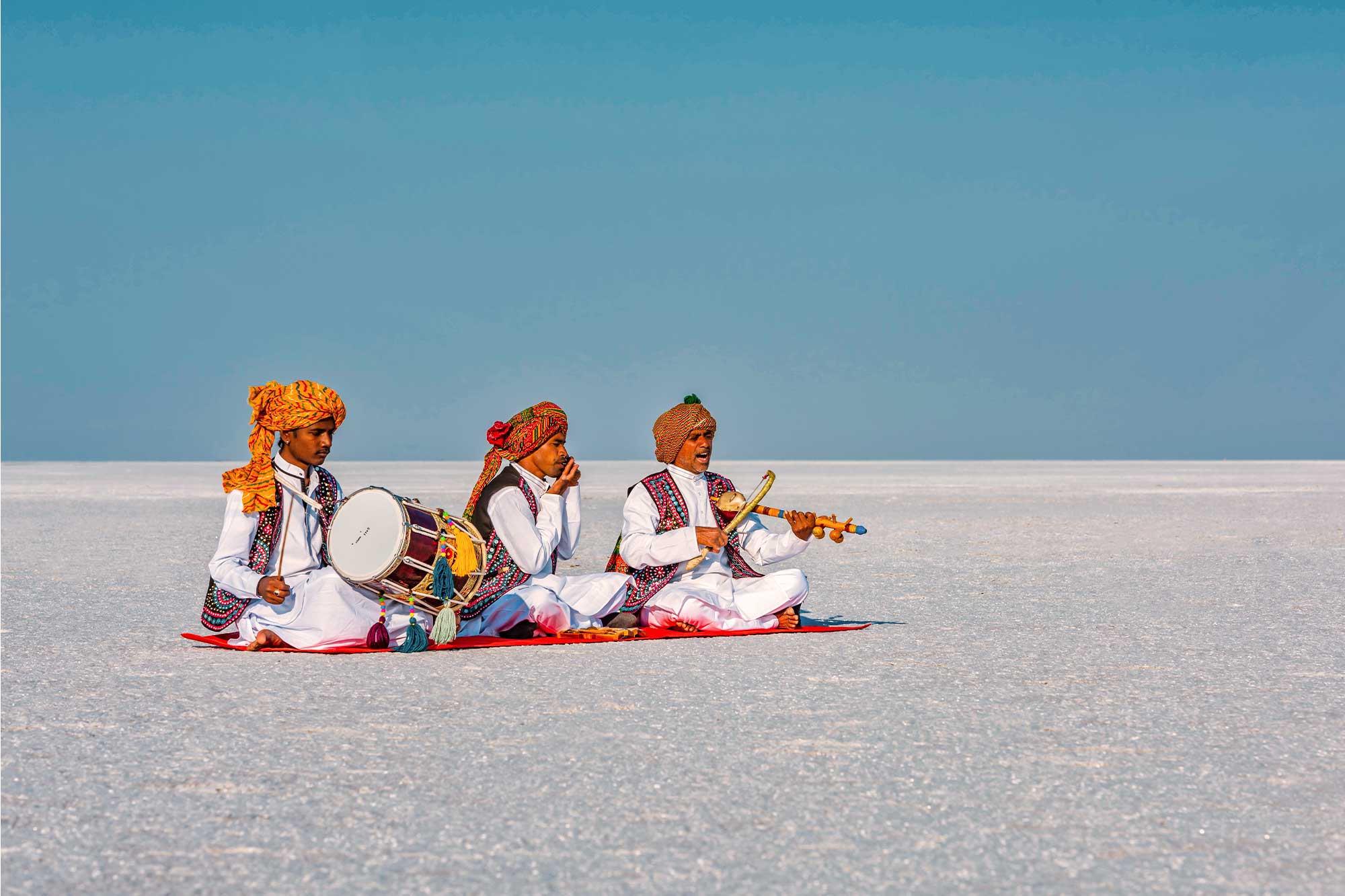 4. Sabarmati Ashram
The Mahatma Gandhi's erstwhile home now turned in to a museum located on Sabarmati river which is a must visit attraction of Gujarat state. This is the place where Mahatma Gandhi started Satyagraha Movement. Originally it was started in 1915 at the Kocharab Bungalow later it named Satyagraha Ashram which was the first Ashram set up by Mahatma Gandhi in India. This is the best place in Gujarat for tourists who would like to know more about Mahatma Gandhi's life. Mahatma Gandhi carried out various activities here like farming, Animal husbandry etc. Here the tourist can also explore the historical photographs of Mahatma Gandhi, Charka and their resting and meditation place. In the recent years many international president and ambassadors visit this place like Benjamin Netanyahu, President of USA Donald Trump which makes this ashram an international significance.
5.Dwarka
Dwarka is one among the holy town of Gujarat state which has an important significance in Hindu religion. Dwarka has also its historical significance as it is believed that this was earlier knownas the kingdom of Lord Krishna. Dwarka is also one among the sacred Char Dham Hindu pilgrim and one of the historical religious site in India. The Dwarkashish temple of Dwarka is world famous built in 2oo BC and still people can found the ruins of old Dwarka town which has been excavated by the archaeological department of India. Dwarkadhish temple is also famous by the name of Jagat Mandir which is a Vaishnava temple located in the heart of Dwarka.
The festival of Lord Krishna Birthday Janmashtmi is celebrated every year on a huge scale. Dwarka is also housing many other ancient temples and historical places which provide an ultimate spiritual experience to every tourist. Dwarka is located near the Arabian sea which also offers many adventure activities to the tourists and pilgrims. In Dwarka you will enjoy many adventure sports such as Scuba diving, underwater sports where you can see the remains of old Dwarka.