This is a type of well in which you can approach up to the water by walking down the steps. These step wells are called Baolis or Bawadis. These step wells have great importance in the ancient system of Indian culture as they were used to store water.
These Baolies can be found in different parts of India, this water of the step wells in India was used for drinking bathing, and irrigation of crops. They also provided a safe summer retreat for the caravans in ancient India.
Rani Ki Vav Gujrat – One of the major step wells in India
How to Reach ranki vav– Patan is nearly 125 KMS from Ahmadabad. You can hire a taxi or cab to get there.
Rani ki Vav is considered to be the precursor of the baolis in India. This is the largest stepwell dating back to the mighty chalukya dynasty. This ruled a vast area of Rajasthan and Gujarat in 11th century A.D this is presently a world heritage site under UNESCO.
History and architecture of Rani Ki Vav
This gigantic step well was erected with command of Udaimati who was the consort of Chalukya Ruler. Bhimdev 1this monument suffered a major damage in 13 century when it was filled with silt. Later on the conservation work was done in 1940. This Baoli allures the tourists not only on account of it's size, but for.
Chand Baoli: – One of the prime step wells in India  
How to reach Chand Baoli: – If you are in Jaipur, you can reach chand Baoli by a taxi or by public transport. It is located at a distance of 90 kms from Jaipur. In case you are travelling from Agra to Jaipur you can visit Chand Baoli en-route. Even if you are doing Golden triangle trip you can include this place in your tour plan.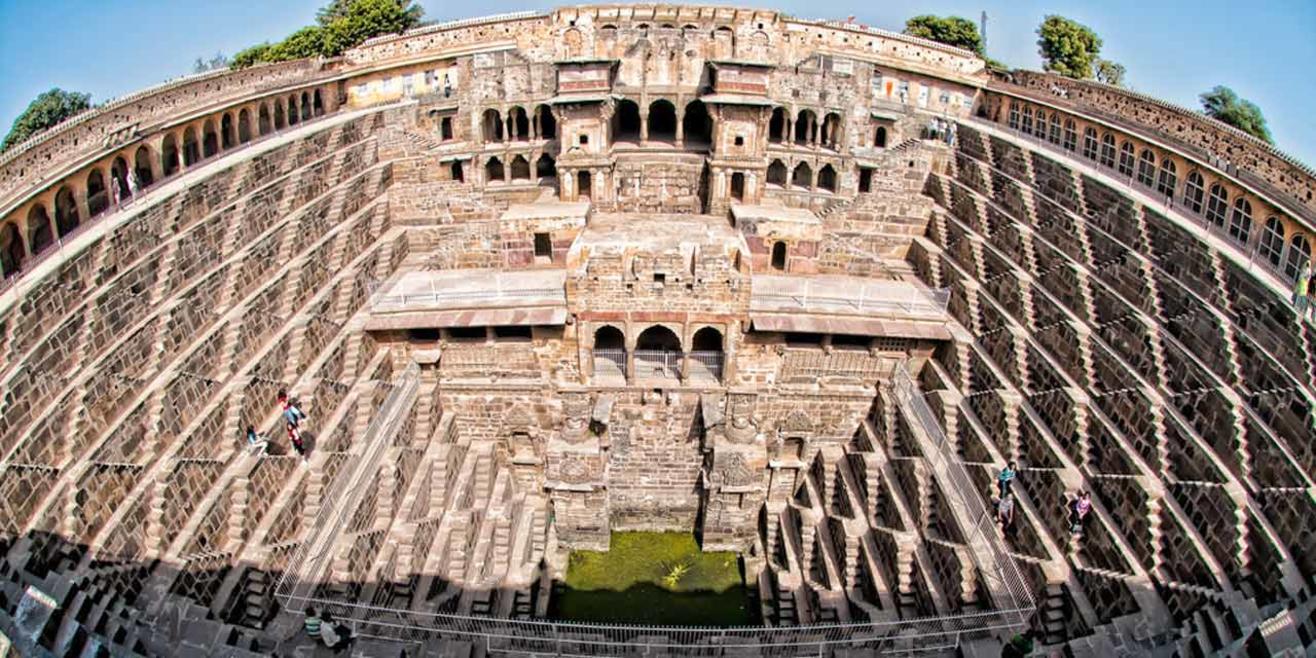 History and Architecture of Chand Baoli
This Baoli is supposed to bear the name offer a ruler known as Raja Chanda. This baoli dates back to 8th century. Later on the upper palace edifice was added to it by the subsequent rulers in 13th century. This mamooth structure has 3500 steps toppling down the sides of the huge central tank. These steps are arranged in a criss-cross palter or similar to diamond-cut design.
Locals believe that this grandiose structure of Chand Baoli having 13 stories was built in just are night by the djinn. This baoli has provided a unique set for the monies like the Dark knight Rises and Bhool Bhulaiya.  
Suggested Tours: –
Taj Mahal Baoli –
The epitome of love Taj Mahal Agra alliances the tourists for it's magnificent and history. There are a member of smaller monuments and tombs scattered all around the precise of the Taj Mahal. Less known fact is that this place also encompassed a baoli (step well). This was serving the water for this huge monument.
This remarkable step well is located close to the mosque of the Taj Mahal. this baoli is a unique feat of architecture. It's a pity it is remaining closed for the tourists. Presently massive renovation work is going in to conserve this site it is said to be haunted by a group of people who believe the presence of the Jinns around this.
Agrasen Ki Baoli
Delhi has scores of tour destinations. Some are well known even the less known destinations of Delhi have much attraction. Agrasen Ki Baoli is one such place which few minutes from Connaught Place. This magnificent step well in the capital city of India is believed to be built in 14th century by the Tughlahk ruler.     
Baoli in Agra Fort
The Agra fort is a monument of prime importance with many withdrawal palaces houses inside. Less known fact is that this fort also has old Baolis. One such Baoli is named as Babur's Baoli. This Baoli was built by mughal emperor Babur after his conquest of Khanwa battle. He captured this fort from the Lodi ruler-Sikandar Lodi.
Babur's records this fact in his autobiography and even about the process of lifting water from the step well. Water was hauled up by using bullocks in three stages and thus overhead water tanks were filled. Later on water was supplied through the 27 holes to various parts of the fort. This water was used for the inauguration of gardens and for the hammams inside the Agra fort.
Imambara Step Well– One of the major step wells in India
Lucknow, the city of the Nawab's is famous for eloquent style of Islamic architecture. This is also known as Shahi Baoli and was built by Nawab Asif –ud-Daula in 1784. The design of this baoli was made by Kafayat-Ullah who was a well known architect of the time. There are many prevailing myths about this baoli-some consider a hidden treasure to be inside it and others consider a secret tunnel connecting it to the city. This step well in Lucknow was conceived to provide employment to the native people who were affected by famine.The most stricking feature of this baoli is the secret view of the visitors. One can see the colorful view of the visitors. One can see the colorful view of the visitors on water.   
Suggested Reading :-
Baoli in Fatehpur Sikri
Fatehpur Sikri is famed with the second capital of mughal emperor Akbar. This UNESCO treasur has a number of palaces and attractions spread in a large area. One such less known wonder is a baoli on Agra road near hakim is baths. Similarly archaeological survey of India has found out a baoli near karvan sarai and hiran minars. This is supposed to be built by Babur after his victory of Khanwa. This was for a long time under debris. This is a three storied rectangular building with a water tank on the middle.
Surya Kund Step Well Modhera      
Modhera is famed with its unique sun temple of 11th century. You can reach Modhera easily from Ahmadabad by using a cab or public transport. The sun temple is built in such way that the sun beams at the time of dawn fall first on the inner sanctum during the equinox. The sun temple houses a great Surya Kund. The entire complex was built in the regime of Solanki Rajput rulers. The Surya Kund is adorned with too small shikharas and shrines and provides the illusion of a museum of sculptor.
Nahargarh Stepwell, Jaipur
Jaigarh and Nahargarh are two other worth visit forts in Jaipur besides the Amer fort. Nahargarh fort is also set on a small hill and attracts the tourists for its scenic view and architectural grandeur. Like some other forts and palaces of Rajasthan and Gujarat, this fort has two huge step wells. One is located inside the fort while the other is outside. These step wells were constructed in the reign of Maharaja Sawai Jai Singh in 1734. These two baolies do not follow the same symmetrical pattern like the Rani ki Bav or chand Baoli. These were buried to cope with the problems of scarcity of water and to provide the water to the fort.
Read the facts about Jaipur
Torji Ka Jhalra, Jodhpur   
Jodhpur has famous monuments such as Mehrangarh Fort, Jaswant Thada etc. Less known is the step well known as Toorji ka Jhalra which s located in the old Jodhpur city. This step well is built is sandstone. It was constructed on the behest of the wife of Maharaja Abhay singh.
For couple of years, this place was neglected and suffered damage on account of garbage. Now it is conserved to a large extent and hopefully it is going to attain its old form.
Things to do in Jaipur