Have you ever come across with the term as "Switzerland of India" if not read about it in this blog.  Ooty was referred as India's Switzerland by John Sulliven who was the British collector of Coimbatore.
Ooty is a famous hill station in India and is situated in a municipality in the Nilgiri district of Tamil Nadu. It bears the official name as Udhagamandalam. It is widely known with the epithet as the queen of Western Ghats. In the early period it was the seat of the Kola. Irula and Toda tribes it fell under the British occupation in the 18th century. Toda tribal it fell under the British occupation in the 18th century. Toda tribal people were agrarians and their economy relied upon animal husbandry. It was ruled by different dynasties such as Satavahanas, Rashtrakutas, Hoysalas before the advent of Tipu sultan. British captured it from Tipu sultan. Aanamore palace in Ooty served as the summer capital of madras presidency. British were enamored by the beauty of Ooty hill station. Ooty trip gives you plethora of options to witness lush greenery tea plantation, scintillating waterfalls and much more.
Location of Ooty
The city of Ooty is well connected with Nilgiri mountain railway and Ghat roads. This hill town is covered by the ranges of Nilgiri Hills. This town is amidst and beautiful ranges- snowdown, Elk hill, Doddabetta and club hill.
How to reach Ooty?
As Ooty is well connected with air, and road network, it is widely visited by the tourists across the globe. The nearest airport to Ooty is Coimbatore which is just 85 kms away. The nearest railway station is Mettupalayan which is nearly 50 kms. You can board the train from Chennai, Bangalore or mysore and approach this place. Besides train if you are interested to travel Ooty by road, you can hire a taxi or take a public bus from Mysore, Coimbatore or Bangalore.
Best time to visit Ooty
The best time to visit the queen hills– Ooty is from March to June while it remains very pleasant weather. The temperature during the winters is very low, but in the summer time the temperature in Ooty remains from 22 degree celcius to 30 degree Celsius. During the monsoon time it remains misty but in the summers visibility is very good. An ideal Ooty tour package can be for 2 to 3 days.
Ooty-A great honeymoon destination
India has a number of Honeymoon destinations such as Kahsmir, Udaipur, and Andaman Nicobar. Ooty tops the list of India's honeymoon destinations. The beauty lakes, cool breeze, lush greenery, meadows and the misty mountain ranges provide extreme delight to the honeymoon couples. Away from the hum drum of city life and chaotic traffic one is blessed to enjoy the fabulous landscape and the bounties of nature.
Related Tour Packages – 
This Place offers you a series of activities and things to do which will make you Ooty tour memorable. Following are some top activities in Ooty.
Bird watching
Rock climbing
Camping
Zip Lining
Mountain Trekking
Walking Tour
Boating
Cycling
Toy train ride
Places to visit in Ooty
Only sightseeing gives you plenty of opportunities to enjoy soothing environment and gaze at the admirable beauty. Following are some top places to visit in Ooty.
Stone House- The city houses a number of historical buildings and the stone house is one among them. This first bungalow of Ooty was constructed by John Sullivan in 1822 when he acquired the land of Toda Tribal people. Presently this building is serving as the residence of the principal of the government arts college. The architecture of the stone house is amazing.
St. Stephen's Church- St. Stephens church dates back to 19th century and is located on the road to Mysore. In 1829 Stephen Rumbold constructed this cathedral. This church was designed by john james  Underwood. This church has a churchyard where you can find the graves of notable British officials. This church is beautiful paintings such as the last supper.
TodaHuts– This is one of the most attracting part of Ooty sightseeing. These are the residing places of Toda tribal people. These huts are made in the shape of semi-banel. They have no windows and have low doors.
Tea factory– This is the government tea museum close  to modern town you can visit Tea factory which is spread in 1 Acre. By visiting this factory you come across the history and origin of tea and different varities of tea. The prices of CTC  (Cut twist and curl) machines are at display.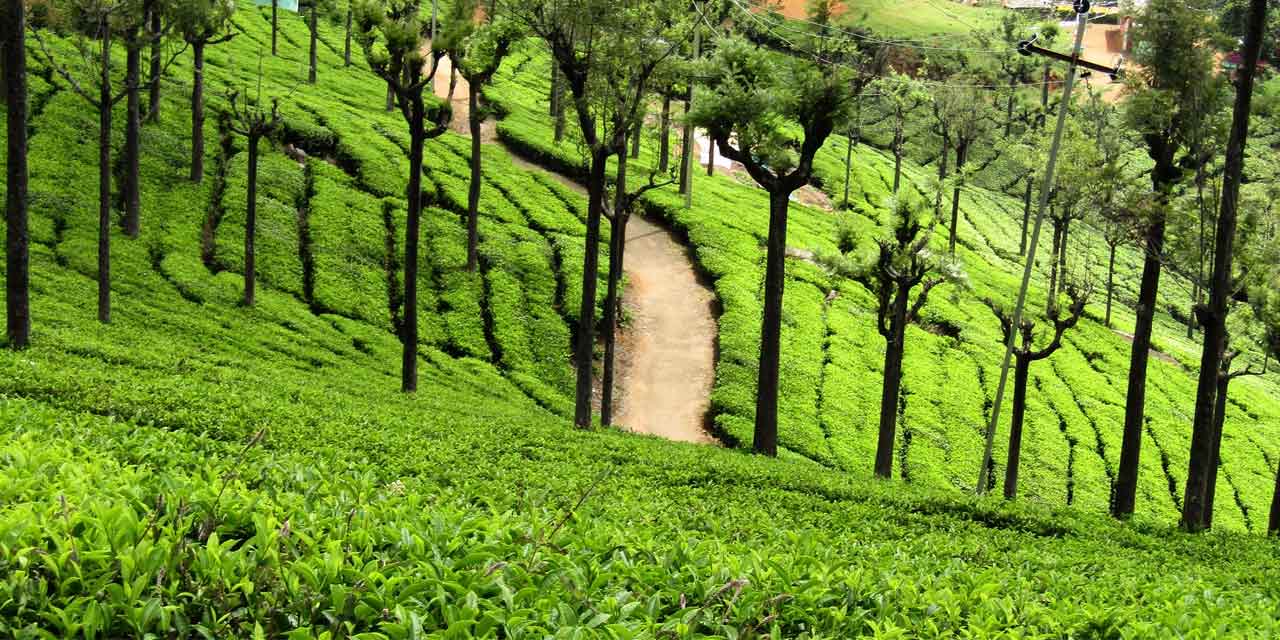 Avalanche lake– This lake is located nearly 25 kms away and his and lush greenery. In 1800 a massive Avalanch come and it was famed. Thus it was named as Avalanch  lake. This is very popular for trout fishing.
Rose garden– This beautiful garden is spread in an area of 4 hectares and is the home to more then 20 thousand variety of roses. This won the international awards for its unique nature.
Pykara Waterfalls– This famous waterfall is located on Ooty Mysore road 20 kms away from the town. This place is very ideal for picnic place in Ooty. Near the waterfall you have the facility of a boat house and a restaurant.
Tribal Research Center–  This famous Place is located nearly 10kms away from town This gives you the Opportunity to came to know about the tribal Life and traditions.
Doddabatta Peak– This fames peak is located at an Altitude of 2625 meters. This is the top peak of Nilgiri and is very popular with the trekkers. Besides the view of the valley it has diversity of rich fauna and flora.
Mudumali National Park– This national park is the home to the tigers and other wild animals. It is connected with the eastern and western Ghat.
Botanical Garden- This garden is spread in 55 acres of land and is maintained by the Horticulture department. This have fire sections- fern house, Lower garden, Italian Garden, conservatory and Nursery. You can witness the festival tree trunk.
Ooty Lake– This is one of the most popular destination of Ooty  tour and is very popular for boating. You can hire a boat from the nearby boating house. Besides you have exhilarating experience of cycling and shopping by the Lake side.
Toy Train– This is a must do activity of Ooty tour. Toy train is a part of Nilgiri mountain railway. The ride in the toy train is very delightful as you pass through the lush greenery and landscape of Nilgiri mountains.
Shopping in Ooty–  The town besides it scenic beauty is a paradise for the shoppers. As a shopaholic you have immense opportunities to buy souvenirs and local handicrafts of Ooty. You can buy quality items as per your choice and budget. You can indulge in the street shopping activity. Some famous markets are as follows.
Tibetan Market
Lower Bizzar Road
Coomercial street
Ooty Municipal Market