India has been a country of strange traditions since time immemorial, Paan chewing is one such tradition which is prevalent in some other Asian countries also. This practice of mouth freshening is very old and still in vogue in various Indian states. Besides Paan Culture a ready made chewing replacement is paan masala.
I am prompted to write about the traditions of Paan in India from and instance which occurred couple of years back. As I was working with a western couple and we were in Varanasi suddenly the lady guest uttered stop stop as she saw something. I in amazement asked her the reason she said look that man is bleeding from mouth. I smiled and explained to her the actual reason as the man spit paan from mouth with red lips. The couple was amazed as there could be something which can elucidate blood like pigment. Later I tried to quench the inquisitions of the couple and showed the paan at the famous Paan shop in Varanasi.
In Indian subcontinent the practice of Paan culture is very old. This can be traced back thousands of years back the scripture of India mention the importance of Paan and in Sanskrit language it is called Tambul. It is refereed as the ornament of mouth. Still it is very popular with the Hindus to have Paan with the worship
It is believed that the chewing of Pan in India began with the contact of Austronesian traders from Indonesian, Malay with Sri Lanka and south India nearly 4000 years back.
 How Paan is Made?
Paan is also split as pan and is prepared from betel leaf (Piper betle) called paan patta in Hindi language. It comprises of areca catechu, slaked lime, copped betel, menthol and other ingredients. Leaves of the betel plant are wrapped around such ingredients and sometimes with tobacco also. After chewing it is either spent out or swallowed. Katha is known as Mukhras which together with menthol works as mouth freshener.
Types of Paan
There are 2 major kinds of Paan leaf- Varanasi Paan and Desi Paan. There are several kinds of paan such as Meetha Paan (sweet paan) Masala pan, Gulkand Pan, Sada Pan to name a few.  Some famous Pan shops of Lucknow, Hyderabad, Agra, Varanasi have hundreds of varieties of Pan at display.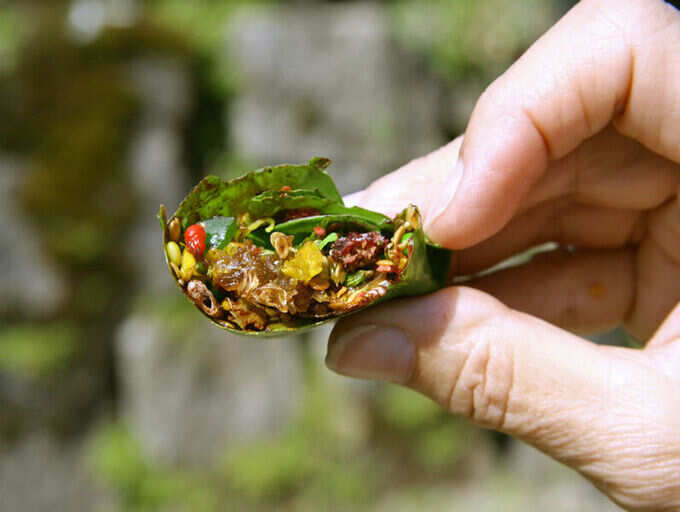 Pan Masala – Other form of Paan Culture
This is a mixture of areca nut, slaked lime catechu and other ingredients mixed with fragrance. Sometimes it is mixed with tobacco and is called Gutkha In pan masala mixture you find fennel seeds as the pure menthol. In the process of pan masala making sugar and water is boiled and mixed with fennel seeds, powder crystallized sugar, cardamom powder etc and later packed in airtight pouch.
Now you see sachet hanging outside Pan shops of vimal pan masala, Tansen Pan Masala, Rajshree Pan masala, etc. A well known pan Masala brand is Rajnigandha Pan Masala and Manik chand which you can buy in various parts of India
Suggested Tours
Religious significance of Paan
Betel leaf or Paan is referred as a token of love not only in India but across the whole south Asian countries. Pan is supposed to originate from Sanskrit word "Parna" which signify leaf importance of Paan culture in India can be realized from the fact that most of wedding venues in North India install a Paan shop at the reception Gate and the marriage ceremony for the groom starts with the Paan chewing. Paan is considered as a token of appreciation and the incidence goes back in to Indian mythology when Mata sita offered a wreathe of Paan to Lord Hanuman at the first sight to appraise his valour, devotion and dedication to Lord. The famous Indian festivals like Diwali, Durga Puja have Paan as an indispensable worship material placed with Kalash.
Read More Blogs
 The role of Paan in Ayurveda?
Paan has a vital role in Ayurved. It is useful to cure the disease caused by air and is a powerful remedy from cold and cough. It is digestive and antiseptic values are manifold. Paan leaf itself is harmless until used with areca nuts and tobacco.
 History of Paan & Beedi
Most of the archaeologist and botanic evidences say that chewing of paan started in the islands of south Asia. It is considered that catechu plant originated from Philippines and Paan (Piper betel) is some other south Asian country. The earliest evidence of Paan chewing can be traced back from the burial site in Duyong cave of Palawan island. The dentition of the found skeletons is stained similar to the betel chewers. It is considered that from Philippines it went to Taiwan and rest of the south Asian countries. Such as Vietnam, Borneo, Cambodia, Thailand etc.
While the Austronesian traders came to south Indian coastal parts 3500 BCE they brought paan and Katha Plants with train. The traditions of Paan chewing reached the north Indian parts nearly 400 BCE from this area it reached to Persia and the Middle east by the silk route trading.
The history of Beedies can be traced back to 17th century back in India. Tobacco came to India with the Portuguese and by the mid of 17th century it was widely cultivated in India. The Bidi was invented by the tobacco workers who used to roll leftover tobacco in to the leaves. By the end of 20th century Beedi industry had a boom in India and tender leaves were used to make Bidi up to few decades back pahalwan brand, chakor brand were most famous brand. Madhya Pradesh state has the highest number of Beedi workers in India. Ganesh Beedi owned by Gopinath shenoy and Ramnath Shenoy is a popular brand.