The Taj Mahal, a dream destination has been a perennial source of beauty for ages and thus attracting multitudes. The white marble of the Taj Mahal is a token of chastity, love, and peace. Recently I came to know that the A.S.I official plans for cleaning the dome of the Taj Mahal in 2020. This move can certainly add charm to the seamless beauty of the Taj Mahal.
Cleaning of Dome of Taj Mahal in 2020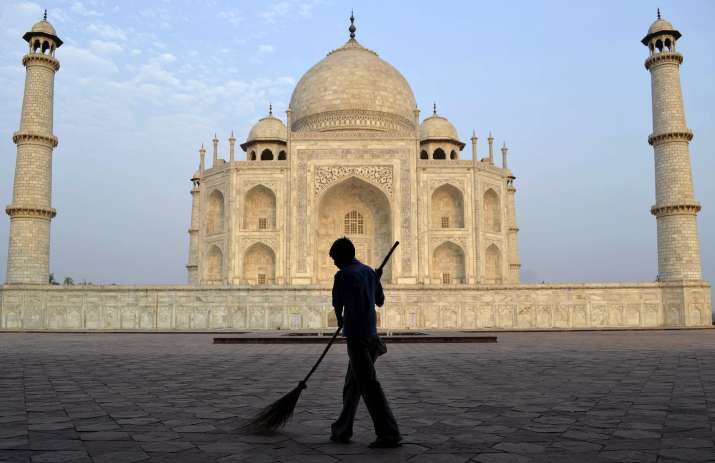 Taj Mahal Cleaning By Mud Pack
A few years back the walls and minarets were washed by the mud pack. There happened a problem of the blackening of the white marble by the deposition of the insect feces. This problem was taken into cognizance in the year 2015 first by the survey of the A.S.I official.
Later on, the action plan was prepared immediately and the A.S.I undertook the cleaning of the dome of the Taj Mahal. Thus the stains were removed on the walls and you are able to see this change during your Taj Mahal Tour Package.
Suggested Tours
No Chemical used for Cleaning of Taj Mahal
This major problem was created by the insect called Goeldi Chironomus which has its root in fifty and stagnant water. For a couple of years on account of the pollutants in the water of Yamuna River, the nourishment was given to the development of particular algae and this unusual growth of algae provided a setting environs to the Goeldi Chironomus.
Thus the white marble of Taj Mahal appealed the swarms of insects from the side of the river Yamuna as these insects were allured by the white color. They like to stick on the walls, minarets and other exteriors of the mausoleum. This insect left his stamps on even such places where the exposure of the light is less. 
Suggested Tours
After Mud Pack Washing By Water
The sources say that the A.S.I is going to start off cleaning the massive dome of the Taj Mahal soon in Feb 2020. For this purpose, they are going to put the iron scaffolding after studying the load-bearing capacity. Thus this work will be on the full swing after April and they plan to finish it by the end of September.
Thus it would not create any adverse impact on the coming tourist season. But it will have a far-reaching impact on growing tourism as after the washing the white marble of the Taj Mahal would come out ivory white giving a new flavor to your Agra Tour.