Pushkar Fair- One among the famous fairs & festivals in India
Pushkar is a small desert city located in the state of Rajasthan. This city is famous according to Hindu mythology for its historical significance and ranks top on the list of fairs & festivals in India. You will also find a beautiful lake near these temples names as Pushkar Lake which is worshiped and visited by every tourist and pilgrims. This lake is surrounded by 52 Ghats having beautiful temples on each ghat. The famous temple here is Brahma Temple which belongs to the 14th century the trinity god which is the only temple of Lord Brahma across the globe.
The Pushkar fair is also known as Pushkar camel fair is famous all around the world as one of the largest cattle fair in India. This is also the most famous cultural fest of this city where the tradition of festivals bring thousands of camels, cattle's and horses together for trading purpose.
Besides the trading, the main attraction of this festival are camel & horse races, Cultural dance competitions, Long mustache competitions animals decorations competitions etc. The activities in which you will participate are horse and camel rides, hot air balloon ride, magic shows, and Puppets shows. In this festival, you will see the complete colors of Rajasthan. This festival celebrated every year in the month of October and November and there is no entry fee to join this. 
Read More blog:-
Goa Carnival– One among the top-rated fairs & festivals in India
The carnival was introduced in Goa by the Portuguese who lives in Goa more than 500 years. This took place every year in the month of February between 22nd to 25th Feb. This is the most famous festival of Goa celebrated every year with thousands of visitors from India and from abroad as well. This is totally a festival of culture, Dance & Music. Book Maharaja Express
The other attraction of this fest is the Parade which is lead by king Momo who sets out with dancers, bands, and entertainers. This parade is moving throughout the main street of Panaji and there is no entry tickets required to enjoy this ceremony. Here everyone is invited to accelerate the freedom and joy of his life and during this celebration all hotels, clubs are organizing open-air parties where thousands of Indian and foreign tourists dancing on the trance beats of DJ. In fact, some foreigners are also coming here to enjoy the natural drugs of Goa city called hashish during this ceremony. Goa is always giving homely feelings to every foreign tourist as more than 70 percent population is Christian in Goa.  
Suggested Tours
Taj Mahotsav- Top Rated fairs & festivals in India near the Taj Mahal
Taj Mahotsav is the festival of Art, Craft, Culture & Cuisines, It is organized every year in the month of February in the city of Taj Mahal called Agra. This is a 10 days festival starting from 18 Feb to 27th Feb and here you will see the exhibitions of art craft & culture from all over the India. The craftsman coming from different cities to make exhibition here of their products for sale due to this so many domestic and foreign tourist coming here to do special shopping of art & crafts items.
Why Taj Mahotsav is Famous?
This festival takes you back to the memories of Mughal era and old Nawabi style culture of 18th century. Here you can see the best talent of artisans, handlooms, handicrafts, live music & dance concerts with some famous bollywood celebrities in an open auditorium. In another cornet they make a kids zone for fun where you can see different kinds of swings and kids trains where they can enjoy special rides.
The entry of Taj Mahotsav
The entrance for foreigners is free here and for the locals are 50 Rs only. It will be started every day in the morning around 10 am and closed until 11 pm. This is the best festival for foreign tourist as they can see the art and crafts of whole India under one roof.
Suggested tour plan:-
Durga Puja– Top religious fairs & festivals in India
Durga Puja is a celebration of so many states in India like Up, Bihar, Odessa and Assam. But originally this festival was celebrated in west Bengal on a large scale. In this festival people pay homage to goddess Durga and this festival is celebrate in every homes as well as publically in Big Pandal's (temporary Stage and tent decoration) They are making big clay statutes of Goddess Durga sitting on the centre of these pandal's and devotees worshiping her for 9 regular days by offering them special foods and prayers day-night.
How Durja Puja Celebrated?
This is a festival of total 10 days and the last three days are very special for ceremonies. In these day people prepare huge amount of food together and distributing and feeding them to the people. Small child girls are dressed up like goddess Durga and worshiped at every house at the end of 9 days ceremony they also offer food and gifts to these girls. This festival is also known as Navratri in some places which means festival of 9 nights. On the last day of celebration these statutes were processing to the big rivers and people immerse them in to the water bodies. This is the most religious festival of India which attracts so many tourists every year to see this special ceremony.
Republic Day Parade – The Pride of India
Republic day is not a festival of a particular city, as the whole India celebrates this festival in the schools, Government offices, education centre and in private companies as well. In the capital city Delhi this festival was celebrated every year as a grand event.
How Republic Day is Celebrated in Delhi?
On this day an official parade takes place in Raj Path by the defense forces of India to show the velour. You will also see the glimpse of small India by this parade ceremony as many of schools kids, cultural artist and performers are also participating in this ceremony. This is the celebration to give honor to the constitution of India which was came in to effect in 26th Jan 1950. This ceremony starts with the arrival of the President of India when he hosts the national flag. In this festival lots of awards for bravery and medals were also distributed by the president. The Indian government always sends invitations to some other countries officials or Presidents to attend this grand ceremony. This ceremony attracts lots of tourist as on one place they will see the glimpse of sceneries of different states of India and the defense capability of India.
Suggested Tours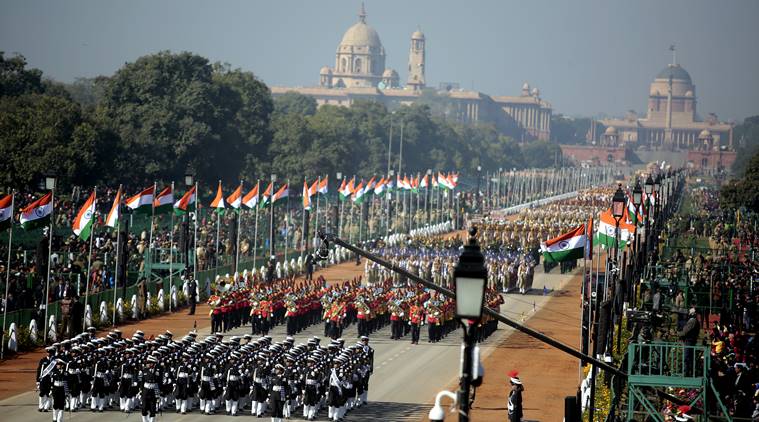 Khajuraho Dance Festival– Top cultural festival of Madhya Pradesh
The Khazuraho dance festival organized every year by the Kala Parishad a department under Madhya Pradesh Government. The highlights of Khazuraho dance festivals are the presentations of different classic dance styles of India such as, Bharat Natyam, Kathak, odyssey dance, Kuchipudi, Manipuri and kathakali with live performances by the masters of this field.
How Khajuraho Dance festival is held?
This festival held annually in an open air auditorium in the campus of 11th century Khazuraho temples and visited by thousands of tourists all around the world as these temples are also famous across the globe for its erotic statues and also comes in the list of world heritage sites by UNESCO. Spectators from around the world come to attend the demonstration of art and dance culture of India. 
What is the duration of Khajuraho dance festival?
This is a one-week festival which happens every year in February month and starting every day in the evening at 7 pm. It is really exciting for foreign tourists to watch the live performances of the best dancers of India. They all are beautifully dressed up with jewelries, makeups, and costumes. There is no entry fee of this festival and in last year's some of the western dance forms are also added to this festival.
Onam- The heart of Kerala culture
Onam is a Hindu festival celebrates in the state of Kerala. This festival is also known as the festival of harvesting in Kerala. This festival is organized for 10 days and celebrated with a great excitement by the locals.
What is Vallam Kali Boat Race?
The major attraction of this festival is a boat race locally known as Vallam Kali Boat race where about the 100 boatman's compete with each other in a boat riding competition. These boats are fully decorated with different patterns and thousands of people gathered to witness this exciting ceremony. The second attraction of this festival is the Elephant procession ceremony where these elephants are decorated with color paints, flowers, and jewelry of different metals. These elephants are taking a round of the village Thrissur and interact people with dances.
During this ceremony thousand of domestic as well as foreign tourists come to attend this tourists week of Kerala. The Onam Sadhya is also a major ritual during this festival they prepare a nine-course meal having 10-12 traditional dishes served on a banana leaf to worship their deity.
Ganesh Chaturthi- Soul of Maratha culture
Ganesh chaturthi is celebrated all over the India and people enjoy this festival with full joy and happiness. This festival start with the installation of Ganesh statue made up clay and plaster of paris at homes and publically also in big pandals (ceremony place).
Duration of Ganesh Chaturthi Festival
This festival is minimum celebrated for 5 days up to 11 days maximum. Maharashtra is the hub of this festival where people celebrate this on a big scale. They are making big pandals decorated with flowers, balloons and Lightings.  The devotees of Lord Ganesha chanting the mantras and doing special prayers in the morning and evening. You will also enjoy the live performance every evening in these pandals like Dancing Music concerts and Dhol competition.
How Pandals are designed in Ganesh Puja?
The prime attraction of this festival are the big statues and of Lord Ganesha in every pandals around 40 to 80 feet of height which is fully decorated with garlands, color paints and with different postures. The whole state of Maharashtra is on leave on these 11 days special occasions. On the last day of this festival a large crowd comes together and moving towards the ocean to shrink these statues in to the ocean which is called visarjan.
Desert Festival Jaisalmer –
The desert festival is annually organized in thar Desert of Jaisalmer city which comes in the state of Rajasthan. This is 3 days festival celebration every year to showcasing the cultural sights, tastes and unique delights of the desert city.  This festival will be held in sand dunes of that desert which is around 40 km far from the main city. The performances of dance, cultural acts, snake charmers, puppeteers, folk dance performers and camel riders make this festival colorful and vibrant.
How Desert festival is held?
The special performers and artisans start moving from everywhere in Rajasthan to attend this event took place in the backdrop of the Golden fort. This festival is also famous for shopping where tourists and local come to buy handmade shawls, rugs, wooden carving pieces, camel and horse decoration items and ethnic silver jewelry at the same place. This festival starts everyday in the morning and celebrated until night. This festival gives a unique experience of deserted city and to feel the difference of normal life of the desert city up to this colorful event that how this city lloks different during this festival. The main attractions of this fest are Horse polo, folk dances with fire performances and camel racings.
Suggested Tours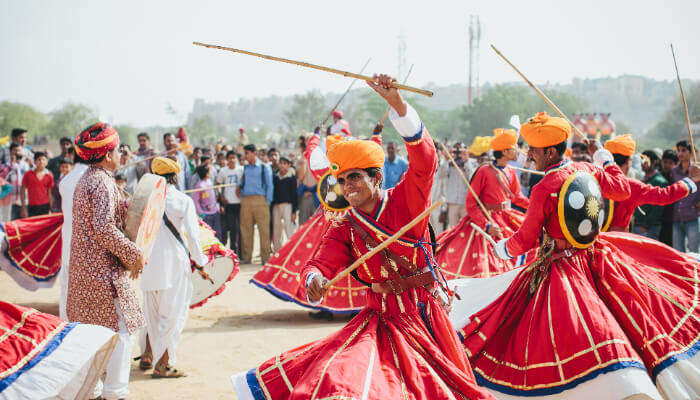 Kite festival in Gujarat –
Date and place of kite festival
The international kite festival of Gujarat is also known 'Uttarayan'.This festival consider as one of the biggest festival of India in all over the world. This festival happens every year on the festival of Makar Sankranti which comes in the month of January and this festival is also consider as the harvesting festival of India. This festival is specially celebrated in Ahmadabad city where thousands of people gathered to watch live the colorful sky from different countries.
How Kite Festival is celebrated?
During this fair kite markets are open day night and every kite seller cannot sleep continuously for 2 or 3 days. Even the small families are also selling their own hand-made kites by open their own shops. There is a kind of competition between thousands of kite flier to cut the rope of other kites with their skills. The best place to watch this ceremony is Sabarmati riverfront. In this festival you will see different range of kites decorated with bollywood star posters, politicians' posters and with different size and shapes. In this festival some international kite makers are also participating with their unique kites. During this fest you will also enjoy the cultural activities and special cuisines of Gujarat such as Dhokla, Jalebi etc in the streets. Entry is free for everyone to watch this live ceremony in the kite flying ground.