Agra is one of the most visited tourist destinations of India. Besides the iconic Taj Mahal. This city is known for culinary delights. While visiting Agra city you should not forget to savour famous food in Agra. You can search for the top eateries in Agra. In the present blog try to give you an idea about the popular cousine and the famous street dining places.
Bedai – Famous Food in Agra
Also famous as Bedami Poori is a favorite morning breakfast of the people of Agra. You can see people savoring bedai which is a fried pan cake served with a curry of spice potato with a typical Agra flavor. The Asafetida is very prominent part of the potato curry. You can easily have a pair of bedai with a serving of Jalebi at Agra. The best places in Agra to enjoy this dish ;-
Bhagat Halwai, M G Road Agra
Deviram sweets, Pratap pura ,Agra
GMB sweets fatehabad road , Agra
Shreeji sweets, fatehabad road , Agra
Dauji sweets Bhagwan Talkies ,Agra
Munna Lal Halwai Bhagwan Talkies , Agra
Samosa – Other Famous Food in Agra
Samosa word can be traced back in the treatise of Abolfazi Beyhaqi "Tarikh -e-Beyahaqi" and it is referred as Sambosa. In India it is supposed to come from the middle East in 10th century A.D. and become a popular cosine with the royalty. Is an all time favorite snack of India. Agra samosa has unique flavor with its typical blend of spices. Here in Agra samosa is best as an afternoon and evening snack. Its served with green and sweet chutneys prepared with mint and tamarind. The Agra samosa will sure entice you with its enjoyable flavor. Samosa is a fried snack with potato filling. The best places in Agra to enjoy samosa are ;-
1.Dauji sweets Bhagwan Talkies Agra
2. GMB sweets fatehabad road, Agra
3.Shrijee sweets, fatehabad road Agra
4.Bhagat halwai, MG road Agra
5. Lovely sweets, sikandra Agra
6. Deviram halwai, Pratap pura, Agra
Suggested Tour Packages-
Choley Bhature
This native street food from the Punjab province of India came to Agra with Punjabi refugees who came to Agra as an after math of the partition of India in 1947 this dish was introduced to Agra by the Punjabis and soon it became very famous now you can find Choley Bhature are a fried snack served with a curry of aromatic spicy chick peas curry.
The best places in Agra to enjoy Choley Bhaturey ;
Bhajan Lal choley Bhature Raja mandi, Agra
Manoj Restaurant Kinari bazaar Agra
Mahesh Bhalla seth Gali Agra
Satto lala sweets shahganj Agra
Pandit Ji choley Bhature subhash bazaar Agra
Sharma ji choley bhaturey chipitola Agra
Soya Chaap
Another Punjabi food which is an alternative to the vegetarian people who want to enjoy the taste of meat. This delicacy resembles meat in taste and texture while it is 100% vegetarian prepared from pure soya bean. The concoction and the blend of spices and gravy makes this dish an all time favorite it can be best enjoyed with roomali roti and tandoori rotis, naan of various sorts. The best places in Agra to enjoy the soya chaap                                              1.  Awadhi foods sanjay place Agra                                                                                                                                            2.Master chef Chat galisadar bazaar                                                                                                                                          3.WTF- khandari Agra                                                                                                                                                                  4.Mam franky-sadar bazaar, Agra                                                                                                                              5.Gurgaonwala manas nagar Shahganj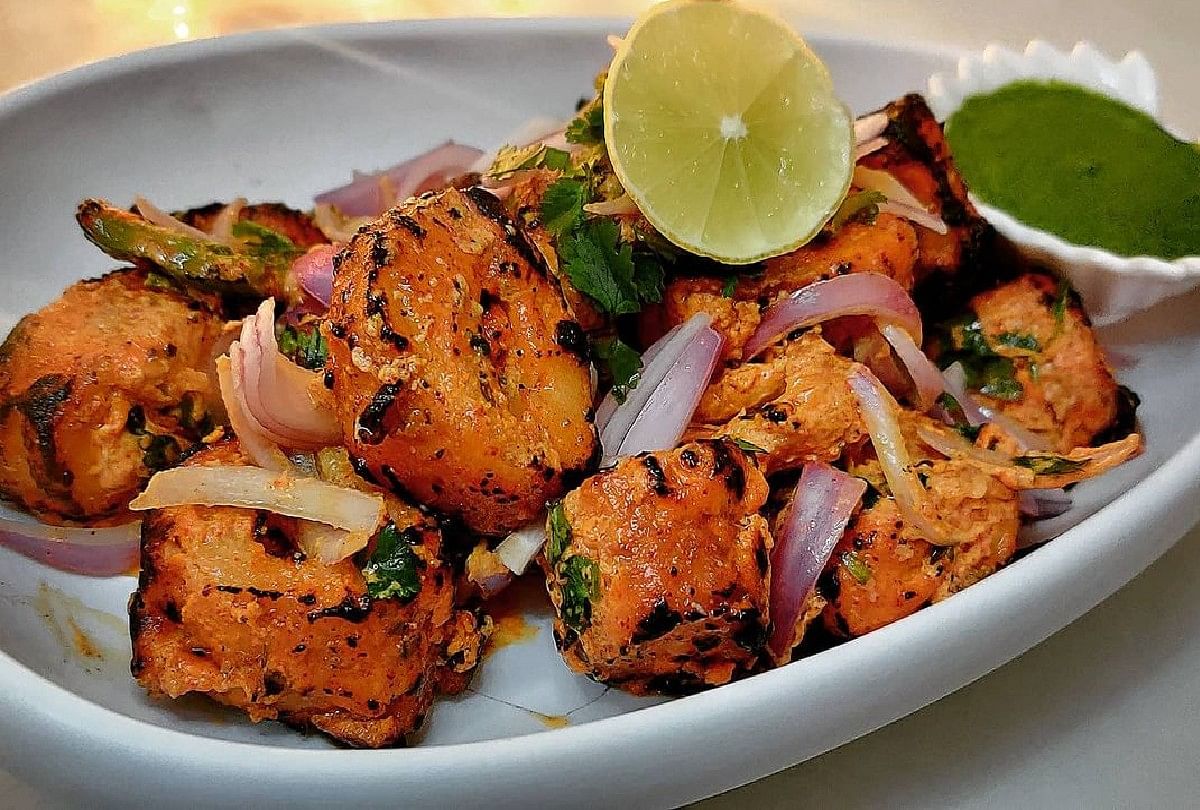 Stuffed Parantha
Paranthas are an all time favorite food of the people of Agra. These are actually filled pancakes of flour. The filling can be of Various sorts combined with peculiar herbs and spices to give the particular taste. One parantha shop in Agra has been serving this delicacy since 1930 and have served this delicacy in various important venues at Rashtrapati Bhawan. The Ram baboo parantha bhandar serves delicious desi ghee parantha in various assortments. The filling can be of potato, cauliflower, cottage cheese etc. They serve the paranthas hot with piping hot curry in two three flavors. The best place to savour paranthas in Agra                                                                                                              1. Rambaboo Parantha Bhandar                                                                                                                                                2.Quality Parantha In front of laxmi Vilas restaurant Sadar bazaar Agra                                                                    3.Anokhey Parantha- Taj view crossing fatehabad road, Agra                                                                                                      4. Anmol Parantha- R.K. Puram Taj nagri Agra
Suggested Tours
The momo's were in 1980's prepared by the Tibetan refugees who live in the Tibetan refugee colony of Majnu ka Teela, New Delhi. The momos are basically dumpling of mixed meat/ vegetables/ cottage cheese steam cooked and sometimes fried. Now the momos are very popular across India specially amongst the younger generation. Even in Agra now momos can be savored at various street food stalls and very well known restaurants. The momos are served piping hot with garlic chutney with high stake of red chillies paste)                                                                                The best places in Agra to relish hot momos ;-                                                                                                                        Mama Franky sadar bazaar agra                                                                                                                                                Momo centre   near radha swami Samadhi Dayal Bagh Agra                                                                                              Chinese food stall in front of Taj view hotel fatehabad road agra                                                                                        Mama franky Awas Vikas colony sikandra Agra
Pakodas 
Popularly known as fritters are a very popular snack specially in north India. Even in Agra the pakodas are available at many shops. The fritters are basically a fried dish made from various assorted items like cottage cheese, various vegetables, slices of potato, onion etc. The slices are dipped in a concoction of chick pea flour mixed with various spices and then fried. The pakoras can be relished as a breakfast sojourn or as an evening snack. In Agra too the people love the taste of Pakoras which are available at many locations;-
Agarwal Pakora- Naulakha sadar bazaar Agra
Pakoda Bhandaar-near chipitola crossing, Agra
Pakoda Bhandar- Jeewani mandi crossing Agra
Double Fatak ka Main gate at Sikandra, Agra
Masala dosa 
Dosa is perhaps the most famous food from the southern part of India where dosa is made in various assortments and with various ingredients. Now dosa is available in all parts of north India and is very well liked by the people The dosa is prepared from paste of rice flour with filling of potato and spices, The dosa with a filling of potato and spices is called the masala dosa. There are various places in Agra where you can enjoy an authentic south Indian masala dosa.
Laxmi Vilas restaurant near nand talkies crossing sadar Bazar agra.
Dasa prakash Meher talkies Agra
Udupi restaurant Nehru Nagar and fatehabad road Agra
Sagar Ratna Khandari crossing agra
Bikanerwala Bhagwan talkies Agra
Haldiram srk mall Agra
Raju dosa –st johns college crossing Agra
Chowmein
This is probably the most famous food which can be found everywhere right from a stall ona busy crossing to a swanky five star restaurant the chowmein story probably started from the Chinese colony of Kolhata where Chinese settlers first started preparing the spaghetti noodles with authentic Chinese sauce and flavors. These noodles were very well liked by the general public and slowly these noodles now are made and sold everywhere in India though in this travel from Chinese settlement of Kolkata to various hook and corners of India the chwomein have really adopted the Indian flavors of spices and condiments.
1.Chinese chowmein centre –sanjay place near new India assurance office
2. Pooja chowmein Taj nagari post office, Agra
3. manoj restaurant Kinari Bazar Agra
4.Bhagat Halwai M G road Agra
5.Deviram sweets Nehru nagar Agra
6. Kaila devi chowmein Rajpur chungi
Suggested Reading Blog: – 
Dahi Bhalla 
Another very popular north Indian snack made from flour of yellow lentil mixed with spices fried like fritters. These fritters are dipped in yoghurt and then laced with sweet and chilly chutney. The snack is then sparkled with spices and condiments. This is popularly called as Dahi Bhalla. Agra loves its Dahi bhalla and you sure can taste this popular dish on your Agra tour. These are favorite dahi bhalla shops for you to tey.
Bhalla Halwai MG road, Nehru Nagar, Agra
Deviram sweets ;- Nehru Nagar Agra
GMB sweets Fatehabad road, Agra
Agarwal Chat Bhandar- Chat Gali sadar Bazaar Agra
Mor Mukut seth Gali Agra
Satto Lala sweets Kothi meena Bazaar, Agra